Reunions

26th Annual Cunningham Reunion to be held on June 16, 2018
* The Family Reunion is always held on the Third Saturday of June of each 'even' year.
The theme is "Family, Friends and Neighbors".
A pot luck meal will follow registration and the program.

* We will have more definitive program info in the next few weeks
Times
Registration, Visiting & Exhibits - 10:00 am
Program - 11:00 am
Potluck Lunch - 12:00 noon
Food
We ask everyone to bring a covered dish or dessert.
Everything else will be furnished by the Association.
Location
Trigg Count Senior Citizens Center
127 Joey Drive (Located off of Lafayette Street)
Cadiz, KY 42211
All "Family, Friends, Neighbors" are invited!
Attendees are encouraged to bring old photos, books, etc, display items.
Make sure you also bring your camera to snap lots of pics!
Please contact Jimmie Cunningham at jimmieccunningham@gmail.com if any questions
Get Directions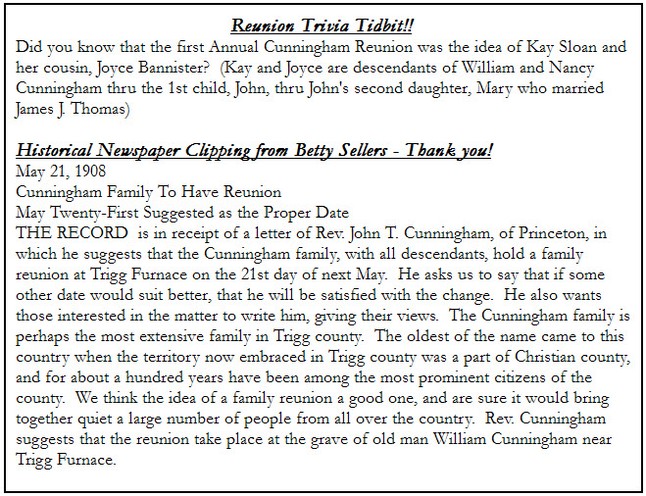 Copyright Cunningham Family Website - All Rights Reserved